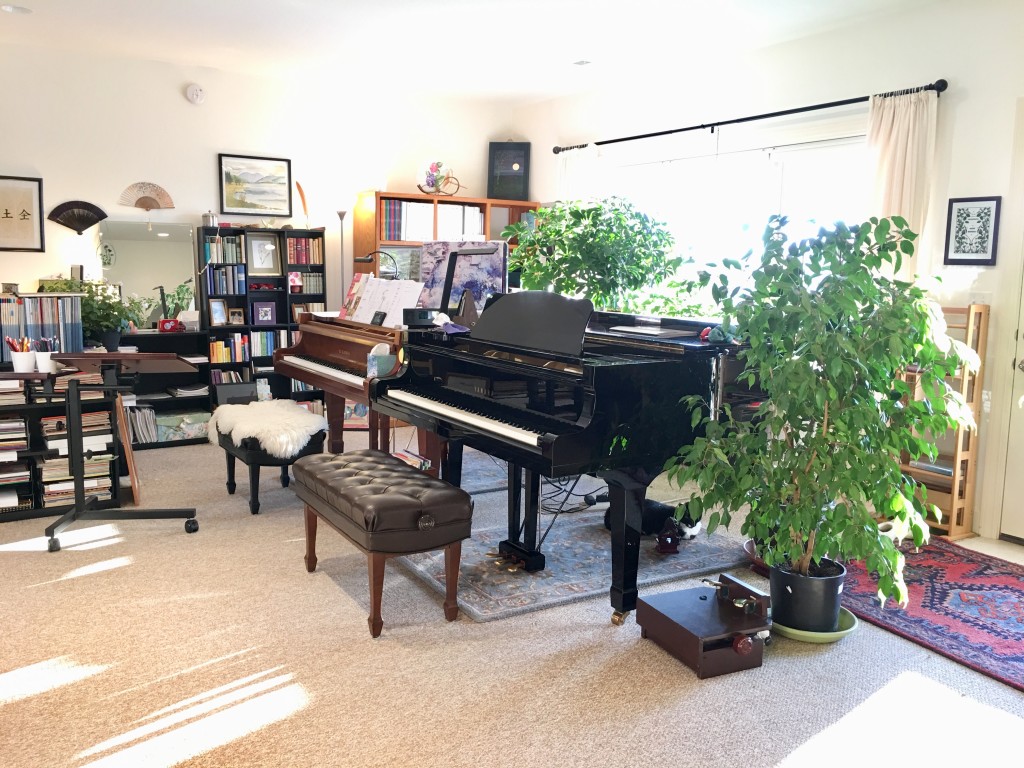 As a teacher it is very important to me to have the best materials available for my students. I am always researching new books, reviewing pedagogy publications for new theories and practice tips, and I study my students to better learn how they learn.
In the studio are:
Two concert grand pianos: a 7'5″ Kawai GS-70 and a 7'4″ Yamaha C7.
"Concert" refers to the size of the grand piano: while there is no absolute standard, a piano between approximately 7′ and 10′ is considered a "concert grand". Having two excellent pianos in the studio gives my students the opportunity to fully explore piano literature with all its nuances.
Adjustable benches and an adjustable foot pedal stool to accommodate pianists of all sizes
all kinds of electronics to help create videos; music notation software to create and edit music scores, etc.
Extensive music library, including sheet music, audio material, videos, and reference material
While I enjoy teaching, it is not something I do on the side, something I do "just for fun". I am a professional piano teacher.
What does that mean?
I am a professional in the same way your doctor or attorney is a professional:  it means that I am an expert with specialized knowledge in piano performance and pedagogy (the art of teaching), based on rigorous formal training which, for me, started when I was nine years old; constant continuing education with regard to both playing the piano and teaching; membership in professional organizations. It also means that I run my studio as a business: I keep books, I employ an accountant, I pay taxes.
I provide a spacious studio with two grand pianos each of which costs upward of $50,000 new, and which I keep in top shape with the help of a professional piano technician; library of hundreds of music scores which I've been accumulating since I first started studying the piano  and to which I constantly add; ever-expanding library of books on music, piano, history, teaching, learning; library of CD's and videos in addition to online access to music recordings; dedicated studio computer and iPad, educational software.
Office Hours:  Mon – Sat  9 AM – 9 PM
Teaching Hours:  Mon – Fri  3 PM – 7 PM . Sat 11 AM – 1 PM
Save Save Save Save Save Save